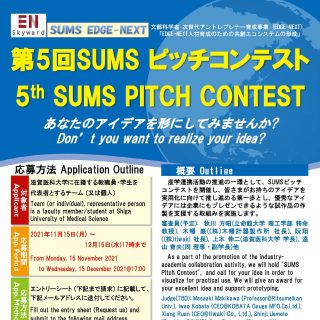 Date: February 4, 2022
RECRUITSpecial Event
5th SUMS Pitch Contest (call for entry)
Information on the 5th SUMS Pitch Contest and entry recruitment will begin.
As part of the promotion of industry-academia collaboration activities, we will hold a SUMS pitch contest this year as well.
We will support your presentation skills as a first step in proceeding your ideas forward to practical use and entry to the Shiga Tech Plan Grand Prix.
Date: February 4, 2022 (Friday) 17: 00-19: 30
Location: Ripple Terrace 2F Meeting Room 1
Participants (Entry target): Team (or individual) represented by faculty members / students enrolled at Shiga University of Medical Science
Entry period: From November 15th (Monday) to December 15th (Friday), 2021 until 17:00
Brush-up period: Approximately one month after entry (brush-up by an outside expert)
Entry method: Fill out and submit the entry sheet (Please request the Word version to the contact information)
Judging method: Judging by judges inside and outside the university
Judging criteria: (1) Novelty of problem setting (creativity), (2) Degree of conformity with social needs, (3) Solution idea novelty/specificity, (4) Appropriate customer setting, (5) Presentation skills (strength of passion)
Awards: 1 team each for the highest award, excellent award, and excellent award winners will be asked to enter the Shiga Tech Plan Grand Prix outside the university. We will provide support for you.
Contact information & entry sheet Word version request
*******************************************************
Masahiro Matsuura (ext. 2936)
Research Strategy Promotion Office
Industry-Academia Collaboration Promotion Department
E-mail: m18matsu@belle.shiga-med.ac.jp
*******************************************************
Information poster & PDF version entry sheet
↓↓↓↓↓↓↓↓↓↓↓↓↓↓↓↓↓↓