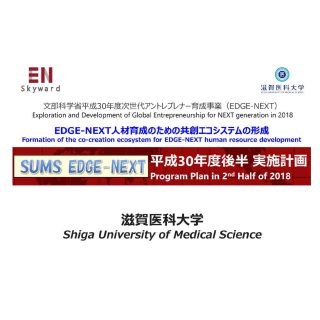 Date: August 2, 2018
Time Table
EDGE-NEXT Program in 2nd half of FY2018
Dear all,
I hope all of you enjoy the EDGE-NEXT program.
I will show the program plan in 2nd half of FY2018 and invite you to each program.
Please check it because the program may have the limitation for participation.
1.Innovation Workshop
Date: 8th(Sat) and 9th(Sun), September
Time: 10:00-17:00 in each day
Place: Biomedical Innovation Center@SUMS
2.SUMS Pitch Contest
Date: 11th(Thu), November
Time: 17:00-19:00
Place: Clinical Lecture Room 1@SUMS
3.Overseas Training (uOttawa in Canada)
Date: 25th(Mon) Feb. – 1st(Fri), March in 2019
Place: University of Ottawa in Canada
Please contact if any.